Ezekiel 23:20:
There she lusted after her lovers, whose genitals were like those of donkeys and whose emission was like that of horses.
MENIFEE, CA (Press-Enterprise) — After a parent complained about an elementary school student stumbling across "donkey genitals" in a classroom Bible, Menifee Union School District officials decided to pull The Bible from all school shelves earlier this week.
School officials will review The Bible to decide if it should be permanently banned because of the "sexually graphic" entry, said district spokeswoman Betti Cadmus. The Bibles were initially purchased a few years ago for fourth- and fifth-grade classrooms districtwide, according to a memo to the superintendent.
"It's just not age appropriate," said Cadmus, adding that this is the first time a book has been removed from classrooms throughout the district.
"It's hard to sit and read The Bible, but we'll be looking to find other things of a graphic nature," Cadmus said. She explained that other Bible verses defining human anatomy would probably not be cause for alarm.
—
Oh, stop, wait. Sorry, I got that all wrong. This is America, after all — no one would ever get to ban The Bible, no matter how offensive. After all, it's the Word of God. 'Struth, it really is. He says so Himself. Right there in The Bible. QED.
No, actually, the story is about dictionaries being removed from class rooms in this enlightened part of Southern California (Menifee — Population: Dumb), because some kid apparently stumbled over a definition of "oral sex." No, seriously. They removed the dictionaries, not because an entry was wrong or offensive (it's not like it says, "she lusted after oral sex with her lovers, whose genitals were like those of donkeys and whose emission was like that of horses."— it's an objective definition, which is what dictionaries are supposed to offer), but because it was there at all.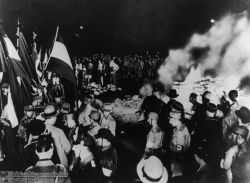 Also: in Texas, they can't even get the author right before they ban him. Maybe those Marxist bears were secretly encouraging 3rd graders to have oral sex; but with only their Bibles to check, they'd have to assume that bears have emissions like horses. I dunno — it's all so confusing.
But thank goodness we're safe now that they've banned all those bad, bad books. I personally think they should burn them, though, you really can't be too safe.
(Top picture just random; second one from here)
Update: The Lord be praised, common sense won out over the armies of ignorance and their minions. And thank you, AP, for that memorable headline: "Oral Sex Flap" — it could get you banned, you know. (ht: LaFiga over at FDL)
Also: Hey, Virginia: Vagina. Vagina Vagina Vagina.