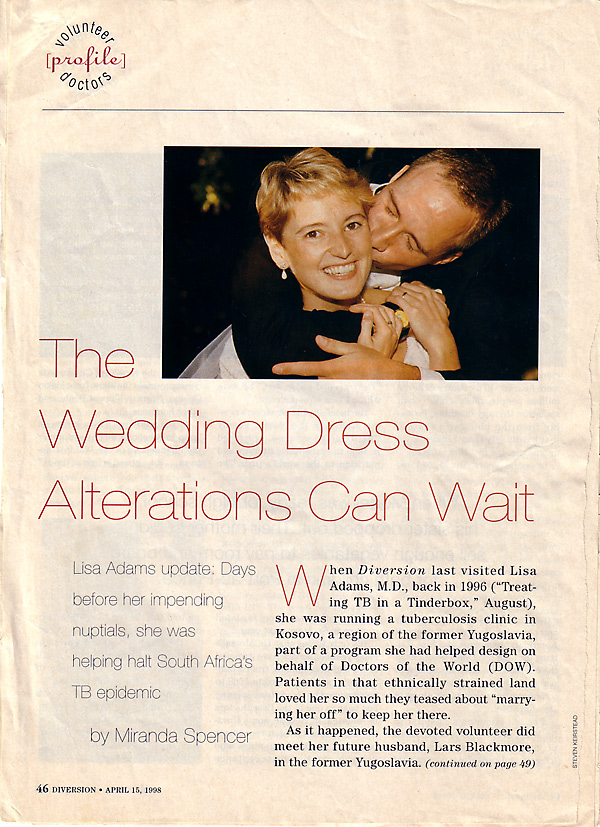 Lisa Adams update: Days before her impending nuptials, she was helping halt South Africa's TB epidemic.
By Miranda Spencer (Diversion Magazine, April 1998)
When Diversion last visited Lisa Adams, M.D., back in 1996 ("Treat-ing TB in a Tinderbox," August), she was running a tuberculosis clinic in Kosovo, a region of the former Yugoslavia, part of a program she had helped design on behalf of Doctors of the Worid (DOW). Patients in that ethnically strained land loved her so much they teased about "marry-ing her off" to keep her there.
As it happened, the devoted volunteer did meet her future husband, Lars Blackmore, in the former Yugoslavia. But it's the people of South Africa who may get to keep her around.
On the eve of her wedding last fall, the 33-year-old internist journeyed to the province of Western Cape for a two-week DOW assessment mission. The nation healing the wounds of apartheid is also battling the world's worst TB epidemic. Dr. Adams' task: to work with the TB Alliance DOTS Support Association (TADSA) to develop a plan to halt the disease. Lars took his fianc