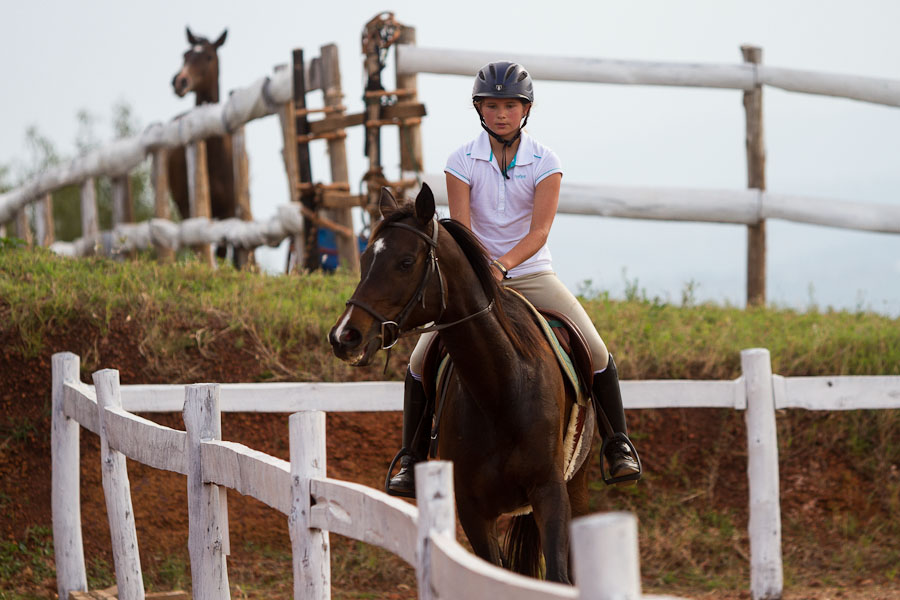 If she's not riding she's not really living. Perhaps her single biggest gripe with this whole Rwanda adventure, Lea has been away from the people and creatures that matter most to her: Mrs. Prince and the dozen or so horses at Prince & Pauper farm in Norwich, and Wendy & Bonnie at Seventh Heaven Farm in White River Junction, where Packy, Rio, Hawk make the world a much better place. (I can't say I blame her; I don't ride — heck, I'm allergic to horses — and yet, I miss them all dearly, especially Rio and his big, soft nose).
To be fair, there is riding to be had here in Kigali, albeit significantly slimmer pickings than back in Vermont. A few years ago, some enterprising Belgian families established Fazenda Sengha on top of Mt. Kigali — literally on top of the mountain. A handful of horses, a mud hut stable, and a terrace with the most ridiculously amazing view, like, evah. The drive up there requires patience and four wheel drive, but it's worth it.
At first, Lea rode Zorro, a decent enough horse, but somewhat lacking a bit in motivation and discipline. Lea wasn't real thrilled, but it was certainly better than nothing. Then came the news that a bunch of new horses were arriving from Kenya (all the horses at Fazenda are retired/rejected Kenyan race or polo horses), which sounded promising. Unfortunately, the trip from Kenya left the three horses and two ponies in such miserable shape that they needed a few weeks to recover and get used to their new surroundings.
But a few weeks ago, Lea finally got dibs on the new goods. And Damara here turned out to be a good match. She's a feisty and strong-willed mare, eager to go all out and tough to control, but Lea has taken on the challenge and apparently dealt with it well enough that Ally, the excellent American trainer at Fazenda, is letting the two of them work on their relationship.